"We want to ensure an inclusive, rewarding and respectful workplace for all. Yes, we stumbled and we have acknowledged that. We learned a lot along the way and have made meaningful progress."
Yves Guillemot, CEO of Ubisoft, is talking to journalists from around the world at the publisher's headquarters in Paris. His is the first of five presentations at this corporate event designed to paint a picture of the firm's goals for the years to come: improving its proprietary game engines, investing in cloud computing, better collaboration between its studios, growing its subscription service, and making Assassin's Creed, Far Cry and Tom Clancy into billion-dollar multimedia franchises.
But for all the focus on its future, the company recognises its past also needs to be addressed.
Shortly after his talk, GamesIndustry.biz sat down with Guillemot in one of the first interviews he has given since the 2020 allegations against the company, accusing various members of its staff – often in leadership roles or positions of influence – of abuse, discrimination, harassment and more.
"It was a shock when it first happened," he tells us. "We thought we were doing the right thing, but we realised there were a certain number of things we should change. So we acted quickly in cutting some people's jobs and in taking actions on many fronts so that it could never happen again.
"We introduced systems so that people can anonymously say if something is not working, and that would go to an independent company that could analyse what was going on, investigate and find solutions. We have really looked at all the things that existed and looked at solving them the best way we could."
What happened at Ubisoft
In the summer of 2020, Ubisoft was one of a number of games companies that faced accusations of harbouring abusers, but it was also perhaps the most prominent, and certainly the one where the impact of specific individuals was most widely shared. In the wake of the allegations, creative director Ashraf Ismail and PR director Stone Chin were fired from the company following investigations into claims of sexual misconduct.
Several key leaders left the company in the face of further allegations of abuse, including VP for editorial and creative services Tommy François, Serge Hascoët, Ubisoft Canadian studios head Yannis Mallat, and global head of HR Cécile Cornet. Cornet's department also faced scrutiny, with an in-depth report from French newspaper Libération claiming that many of the incidents concerning sexual misconduct and toxic workplace culture had been brought to HR but either not acted upon or dismissed entirely.
A year later, another French publication – Le Télégramme – reported that any changes Ubisoft had made to address the issues with its workplace culture had made minimal impact, to which Guillemot responded with a statement insisting the publisher had made "considerable progress."
"We acted quickly in cutting some people's jobs and in taking actions on many fronts so that it could never happen again"

Yves Guillemot, Ubisoft
At the time he pointed to assessments and anonymous questionnaires that had been filled in by more than 14,000 employees, as well as the thousands that took part in focus groups and listening sessions in order to better understand the problems within the company. Ubisoft also brought in consultants from Accenture to review its HR policies and procedures, which led to a new code of fair conduct all employees had to sign.
Key appointments were made to bring in fresh perspectives and diversify leadership, including chief people officer Anika Grant, head of workplace culture Lidwine Sauer, and vice president of global diversity and inclusion Raashi Sikka. Even some local studio management was reshuffled with former BBC exec Lisa Opie brought in as managing director for Ubisoft Reflections and Leamington Studios (who we spoke to earlier this year).
Just last week, Grant and Sikka wrote a blog post on Ubisoft's site about additional initiatives being introduced, including a five-year strategy to improve diversity through both recruitment and internal talent development, as well as a voluntary self-identification program in order to get a better sense of the diversity among the publisher's 20,000 staff.
Both the blog post and a later conversation we have with senior vice president of operations Marie-Sophie de Waubert recognise this is an ongoing effort, with de Waubert telling us: "It's not enough, of course, we need to do more." And Ubisoft's external critics agree.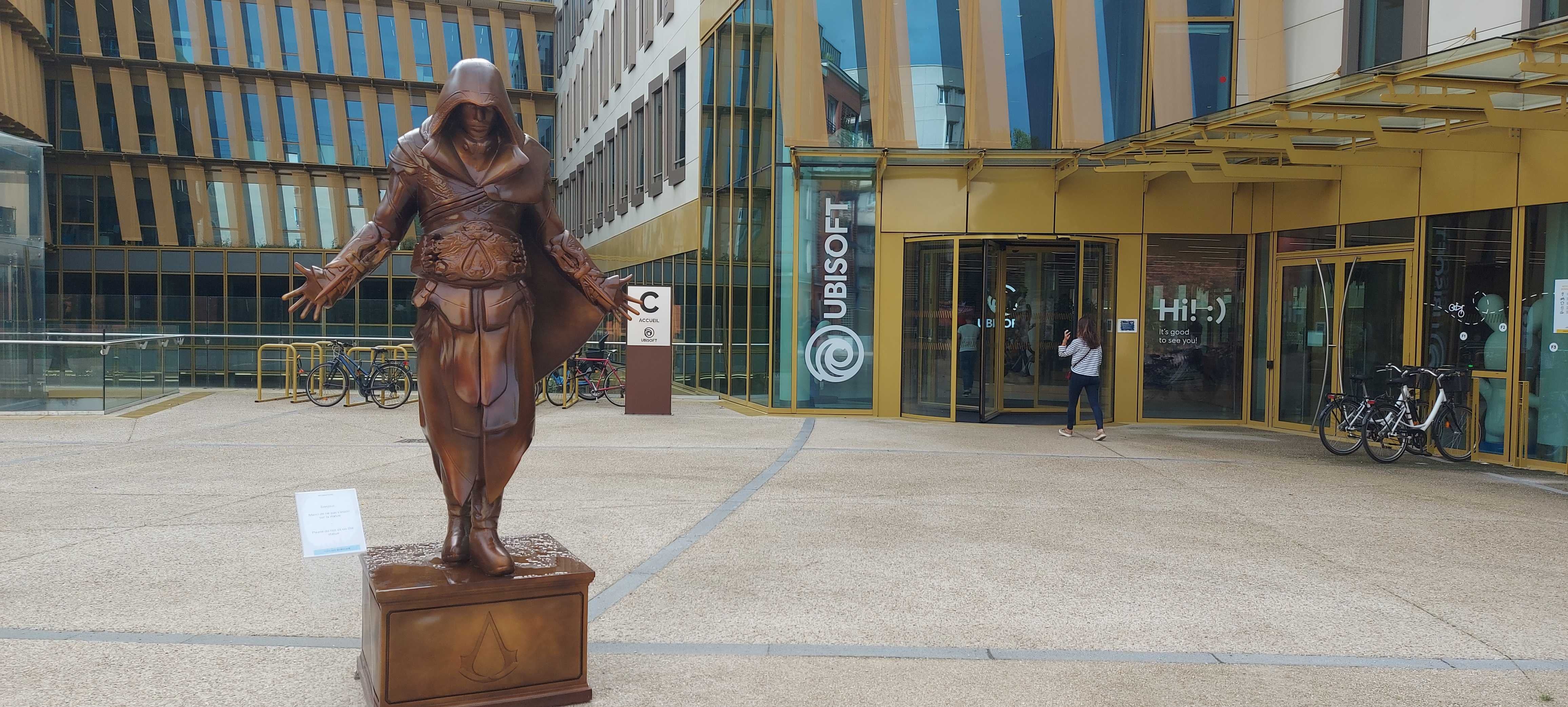 In an interview with Assassin's Creed fan group AC Sisterhood this week, A Better Ubisoft – the group of current and former employees established around the time Activision Blizzard faced its own scandal over similar allegations – insisted the publisher needs to do better. For all the individuals that were either fired or stepped down, the group claims there are other abusers — or people who protected abusers — that not only remain at the company but have since been promoted.
A Better Ubisoft has been publicly campaigning for over a year to see better working conditions at Ubisoft and to establish an open dialogue with the publisher, using social media to rally the company's fans; the interview itself was timed as a reminder of the controversy around Ubisoft before tonight's Forward presentation.
"We have done a lot and I think we are a company that can be proud of itself. We can always do better"

Yves Guillemot, Ubisoft
In the face of ongoing criticism, Guillemot remains adamant that his team is putting in the effort to make things right at Ubisoft. "We have done a lot and I think we are a company that can be proud of itself," he tells us. "We can always do better and so the people that are saying we should fix this and that are helping us to do better. We are open to criticisms, and when they are valid points, we go after them to solve them."
He adds: "Ubisoft takes all allegations extremely seriously. While I can't comment on specific cases, I can assure you that any team member who has been named in a report and remains at Ubisoft has had their case rigorously reviewed and has either been cleared, or has been appropriately disciplined and given an individualised action plan to support and monitor their progress."

A Better Ubisoft also insists it has yet to be invited to open discussions about the future of the company's culture, with the publisher instead relying on employee surveys. A Ubisoft spokesperson tells us this is inaccurate.

"The launch of the company-wide survey was one of many steps we've taken to ensure their insight fuels our action plan," they say. "In addition, we have regular global and local townhalls, office hours, and our Employee Resource Groups participate in frequent discussions with leadership teams, including Yves who meets quarterly with global ERG leaders.

"Leadership also engages regularly with their relevant local employee representatives and we have three elected employee representatives on our Board of Directors. We are committed to engaging in meaningful discussions with our team members and will continue to ensure their feedback shapes our path forward."
Guillemot's leadership

Guillemot himself has come under a different form of scrutiny. Like so many leaders at the head of a company dealing with such issues, questions have been raised as to why he has not stepped down as CEO – a role he has held since 1988, two years after he and his brothers founded the business. If such toxic behaviour occurred under his leadership, why is he the one to lead the recovery efforts?

"It's important to remember that one of the things that initially made Ubisoft so successful was the very positive experiences of most of the people who worked here," he says. "That helped us recruit other talented people and grow. My goal when I co-founded the company was to create a place where you can always be yourself, where you will be surrounded by very smart people and where you will have the freedom to create the best games in the industry.

"When I realised that is not what everyone at Ubisoft was experiencing, I very quickly focused on understanding what went wrong and how we could solve it. It was obvious for me that I had a responsibility to take care of the situation so that we could get back to what we were before: a company where people feel they can be themselves and come together to create the best games. That is the philosophy that I've had from the beginning.
"I had a responsibility to take care of the situation so we could get back to being a company where people can be themselves"

Yves Guillemot, Ubisoft

"Realising we were not living up to that standard was really disturbing for me. So, for me, my main focus is on fixing any problems and adapting the company so that it can be again the best place to work."
Throughout our conversation, Guillemot talks about restoring Ubisoft as a place where people want to work. That, he says, is partly why the company has seen the levels of success it has achieved over the past three decades.
"People had a good experience at Ubisoft," he says. "That was our way to recruit people, to say that at Ubisoft you'll be able to be yourself, you'll be surrounded by smart people and you'll be able to create the best games in the industry with lots of freedom. That's how we created the company and what we wanted people to feel in the company.
"When we realised that that's not what was happening… It was obvious for me to go and take care of that situation, so we could go back to what we have been for a long time. A company where people might leave but they also come back because they feel it is where they can create the best games, and where they feel that it's the best environment to have fun and create the best games."
This last comment echoes his earlier address to the event's attendees, where he reported that among the 4,000 people Ubisoft has hired in the last year, more than 600 were returning former employees.
The allegations and animosity around Ubisoft can't have escaped the notice of those new hires, and yet the publisher has been able to win them over as an employer. During the event, we spoke to one such newcomer: Fawzi Mesmar, vice president of editorial at Ubisoft, who's coming up on one year at the company. What were his thoughts on entering a workplace facing so many accusations of toxicity?
"I spoke to everybody throughout my recruitment process about this," he says. "Seeing how much passion they had about the company and how much effort has been put into taking a lot of the allegations seriously and addressing them, it's been very inspirational for me. These guys really mean business, and they're putting a lot of effort into addressing this and they're putting in the workflows to make a positive change.
"That made it exciting for me to join, because it's a cool change that affects a lot of people in the company and I want to be a positive part of that change if I can. If I can have a positive impact on a studio that aligns with my personal values… I want to help people make better games, so if I can do that in my job, that's a match made in heaven.
"Since I joined the company, I feel very empowered to do exactly that. Working very closely with Igor [Manceau, chief creative officer] and Yves and the teams, and seeing the processes that have been put in place, the type of people we've brought on board, all the cool stuff that's happening that you can't see before joining the company – it's been a really cool ride."
"When we have a good experience all together, we're more innovative, we take more risks, because we feel safe"

Yves Guillemot, Ubisoft
Last week's blog post reiterated that Ubisoft is still working on improving its culture and moving on from the accusations that have dominated the conversation around the publisher for the last two years. Guillemot says he wants staff to "really feel at home when they're working for Ubisoft," adding he's open to further suggestions for initiatives that can address the problems within its ranks.
"We constantly look for any idea, any new things invented somewhere that can help all of us to have a better experience," he says. "Because when we have a good experience all together, we create better games. We're more innovative, we take more risks, because we feel safe."

One final challenge with this has been balancing the efforts of fixing the company's culture with running a business. In the wake of the allegations, there was discussion about Ubisoft's decision not to address them in the consumer-facing Ubisoft Forward that ran less than a month later – to the point where Guillemot released a short video statement ahead of its following September presentation. While some consumers still raise the scandal around any Ubisoft announcement, as does the ongoing A Better Ubisoft campaign, Guillemot is confident the publisher can handle both its internal improvements and its everyday business.

"We are human and we will continue to disagree on things, but it doesn't mean we can't continue to do our jobs," he says. "Everyone at Ubisoft wants to create experiences players will love. Everyone wants to see their work being talked about and being successful. We are all here together to create those great games, so it's only natural that we continue improving them, promoting them and getting them into players' hands.
"I'm confident we are capable of doing both at the same time – continuing to improve our culture and continuing to develop great games for players."
Blockchain breakpoint

Company culture is not the only controversy Ubisoft has faced over the past year; the publisher has also attracted ire for its dalliances with blockchain and NFTs.
The company has been one of the few AAA firms to involve itself in the divisive technology from an early stage, with its Strategic Innovations Lab even becoming a node in the Tezos blockchain ecosystem. But its most prominent effort was the move to add NFTs – or 'Digits,' as Ubisoft called them – to Ghost Recon: Breakpoint. The news was met with criticism from both consumers and the press, as well as confusion from some of Ubisoft's own staff.
Ubisoft Strategic Innovations Lab VP Nicolas Pouard said in an interview that detractors of NFTs simply "don't get" the benefits, yet despite his confirmation that Ubisoft would continue experimenting with this model, it was announced in April that no more tokens would be created for Breakpoint – just three months after they were added in the first place.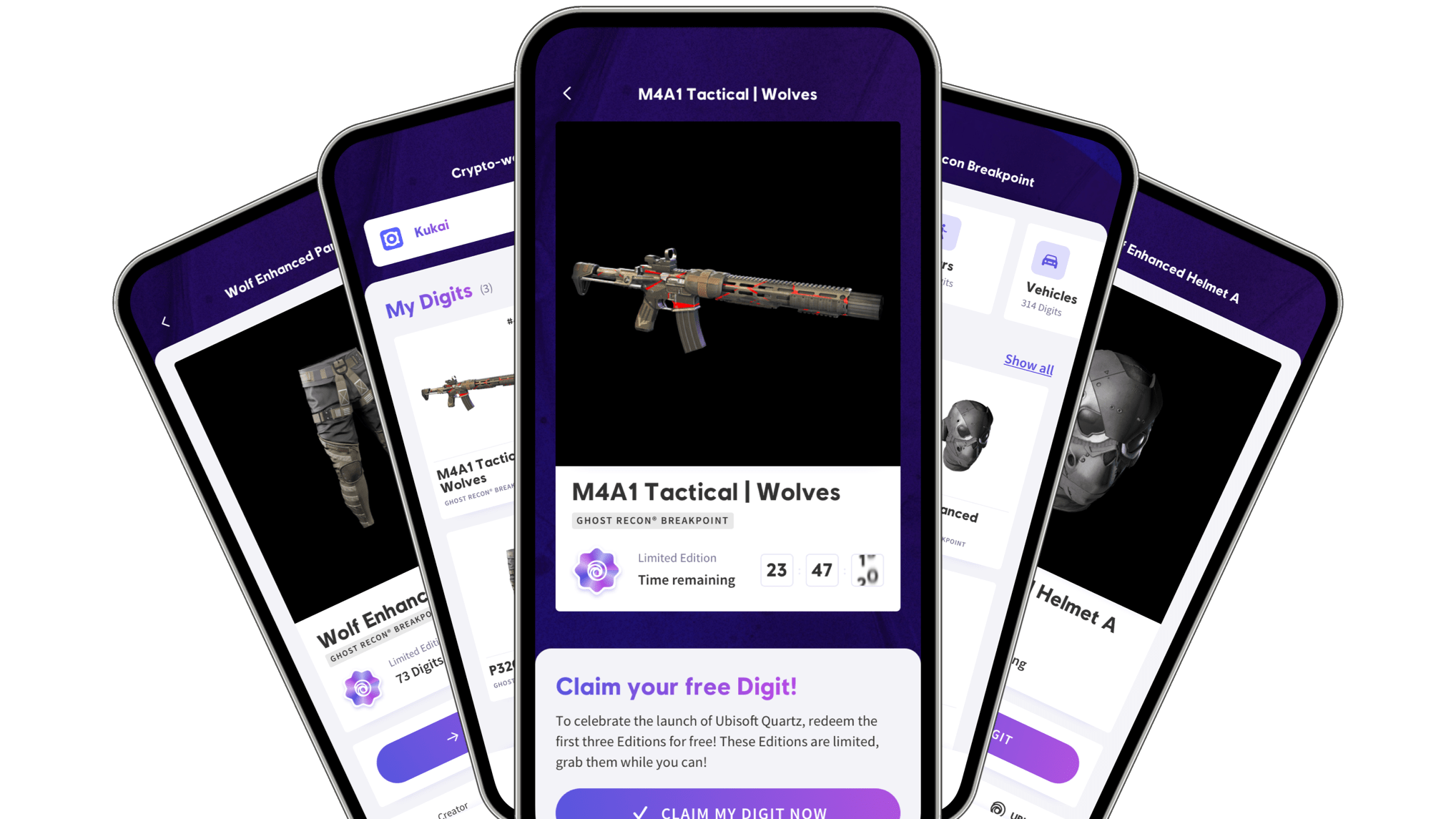 Since then, there has been little to no word about Digits or Quartz – Ubisoft's platform designed for acquiring and trading NFTs. It was also notable that as Guillemot tells media at the Paris event about the technologies Ubisoft believed would define the future of both gaming and its own business – including cloud computing, augmented reality and virtual reality – there was no mention of blockchain.
During a Q&A session shortly after, sister site Eurogamer asks for an update, to which Guillemot responds: "We really look at all the new technologies. We are very much on cloud, on the new generation of voxels, and we're looking at all the Web3 capabilities. We tested a few things recently that are giving us more information on how it can be used and what we should do in the universe of video games. So we are testing ground with some games, and we'll see if they really answer the players' needs. But we are still in research mode, I would say."
When we speak to Guillemot ourselves, we ask about the challenges of conducting such research – especially with public tests like Breakpoint – in the face of such backlash from both media and the very end users Ubisoft is targeting.
"We probably were not good at saying we are researching," he admits. "We should have said we were working on it, and when we have something that gives you a real benefit, we'll bring it to you.
"As a company, we went into VR early, into the Wii early – we always try new things. Sometimes it works, sometimes it doesn't work, but it's always to make sure we can bring a new experience to players that will be innovative and interesting. The goal of the company is always to create the best experience, and new technologies are always good for that because there's less competition and people are more interested to try new things on new technology."
"Exploring [blockchain] doesn't mean launching. This industry is evolving quickly, and it's very cautious about the impact it will have"

Yves Guillemot, Ubisoft
A major point of contention with this particular new technology, of course, is its environmental impact – something that flies in the face of Ubisoft's efforts elsewhere to encourage sustainability. The company has been running climate crisis awareness events within Riders Republic (including a digital climate protest march), executive bonuses are tied to reducing the publisher's carbon footprint, and Guillemot's Paris talk mentions that 95% of the electricity supplied to I3D – the server company Ubisoft acquired in 2018 – comes from renewable sources (and the heat produced from its server farms is channelled to warm up nearby buildings). How, then, can Ubisoft both experiment with blockchain and attempt to save the planet?
"Exploring doesn't mean launching," Guillemot says. "This industry is evolving quickly, and it's very cautious about the impact it will have. Like so many things, at the beginning it's not as good as it could be, but like other new technologies they will find the right way."

A Ubisoft spokesperson adds that decentralised technologies are no exception to the company's commitment to the environment, adding that the Strategic Innovation Lab leading its blockchain research works together with the corporate social responsibility team on everything it does.

The spokesperson added that heavy energy consumption is primarily an issue for first-generation blockchains based on the 'proof of work' protocol, while Ubisoft focuses on working with the less intensive 'proof of stake' blockchains.

"Ubisoft Quartz, our first large-scale experiment with the tech, relies on the 'proof-of-stake' Tezos blockchain which has a lower energy consumption per transaction than sending emails: one standard email equals 4g Co² while a transaction on Tezos equals 2,5g Co²."
The Tencent connection
Also raised during the Q&A session is Tencent's recent investment in Guillemot Brothers Ltd. The Chinese tech firm, which already owned a 5% stake in Ubisoft, took 49.9% of shares in the Guillemot family business, and in doing so gained the option to increase its share in the Assassin's Creed publisher to 10%.

Guillemot emphasises to the attending journalists that the brothers' company is still 51% controlled by the brothers themselves. The deal, he says, is about enabling further business with Tencent in future – particularly on mobile, where the Chinese firm has enjoyed more success than Ubisoft.

"We wanted to grow our partnership," he says. "To grow the business and generate more revenue, and to make sure our brands really are everywhere in the world. Creating AAA games on mobile is really quite difficult to do, so we are doing some of them internally but we are also working with partners like Tencent to create some as well."
"[Remaining independent] was a big negotiation with Tencent, that we can have the right to do whatever we want"

Yves Guillemot, Ubisoft

News of the investment, however, caused a 15% drop in Ubisoft's shares. When asked about this, Guillemot suggests that there's "probably less incentive for people to buy for a quick sell on the company."

Discussion of the news suggested it's a step towards Tencent acquiring Ubisoft, but Guillemot maintains that the publisher wishes to "remain totally independent," adding: "That was a big negotiation with Tencent, that we can have the right to do whatever we want."

He continues: "That decrease in the share price is really due to the fact that people feel that we are only with one partner, which is not the case. We are really open to anybody, but in the short and medium term our goal is to show what we can achieve in our studios and improve the share price by building the best games in the industry."
On Twitter, Kantan Games analyst Serkan Toto shared his own theory on the drop in shares, suggesting the publisher is suffering from mediocre games with little in the pipeline to suggest that will change, the struggles of its blockchain and esports businesses, a lack of mobile games, and the company culture scandal.

When we ask Guillemot his thoughts on this, he points to how Assassin's Creed Valhalla – the latest in the company's flagship series – was the first to reach $1 billion in revenue, with last year's Far Cry 6 also continuing to sell well. He also claims the publisher's line-up has never been more diverse, from extreme sports title Riders Republic, to quirky strategy title and major IP crossover Mario + Rabbids, to recently revamped educational tool Rocksmith+, to the ongoing success of For Honor, Rainbow Six Siege and Just Dance.
"We listen to what players are saying and we make sure that all of our games innovate," he says. "On mobile, it's coming. It took a little bit more time because of COVID but there are plenty of new games coming that we think people will love."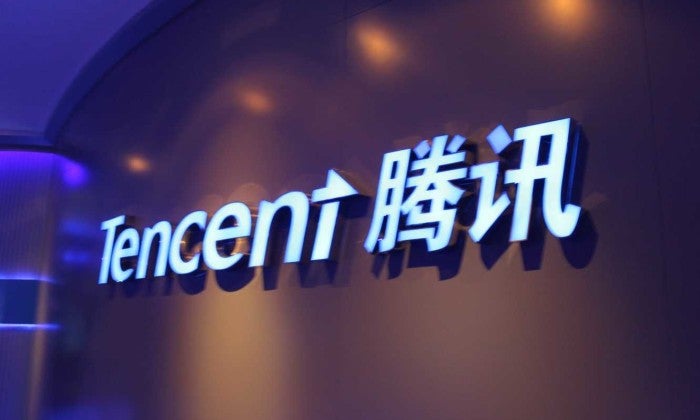 Even so, the prospect of a Tencent takeover harks back to an earlier potential crisis in the publisher's life: Vivendi's attempt to seize control. The French mass media publisher steadily grew its stake to the point where it owned 27.3% of Ubisoft's capital; had it reached 30%, it would have been obliged to make an offer to buy the company. (Ironically, it was when Vivendi eventually sold its entire stake in Ubisoft that Tencent purchased its first 5%.)

It was a tense time for the publisher, culminating in a moment at its E3 2018 presentation where Guillemot, surrounded by smiling members of the team, declared that Ubisoft would continue to stay proudly independent.
"We work very hard on our new IPs to astonish players. The best way to do that is very often to be independent"

Yves Guillemot, Ubisoft

In the Q&A, Eurogamer asks whether that feeling is still prevalent today, to which Guillemot responds: "Yes it is. We want to be in a position to give long-term [prospects] to all the employees at Ubisoft so that they can really create games they feel are going to be the best in the industry. So yes, we always check where we are in the competition and what we can achieve so that we are not close to partnership with other companies or even to move and do things with them closely.

"Our first intention is to be able to own our destiny. That's why we invest in new tech, that's why we look at how we use that tech to create new brands. Our goal is to grow in this industry by having the tools that will allow our brands and our teams the most recognised in the industry, and I think we can do that."

As we conclude our own conversation with Guillemot, we ask whether it's more challenging to stay independent during a period of industry consolidation. Even AAA rival Activision Blizzard is in the process of being acquired by Microsoft, and rumours abound that giants ranging from Amazon to Disney have attempted to buy Electronic Arts.

Guillemot once again draws the point back to the very purpose of Ubisoft, which he says is "to create new and innovative games."

"We work very hard on our new IPs to astonish players," he concludes. "The best way to do that is very often to be independent, because you can decide what you want to do. That's why we favour that possibility."
Disclosure: Ubisoft covered travel and accommodation for GamesIndustry.biz around this event